For over 60 years, the Folsom Pro Rodeo has been a beloved tradition, bringing together rodeo enthusiasts, families, and the Folsom community for unforgettable experiences. It all began as a deep love for the rich western heritage of Folsom and to honor the family cattle ranches which created the community. Proudly PCRA sanctioned, this sporting event showcases the tradition and excitement of rodeo, making it a must-attend for all who appreciate the thrill of the rodeo and the spirit of Folsom, California.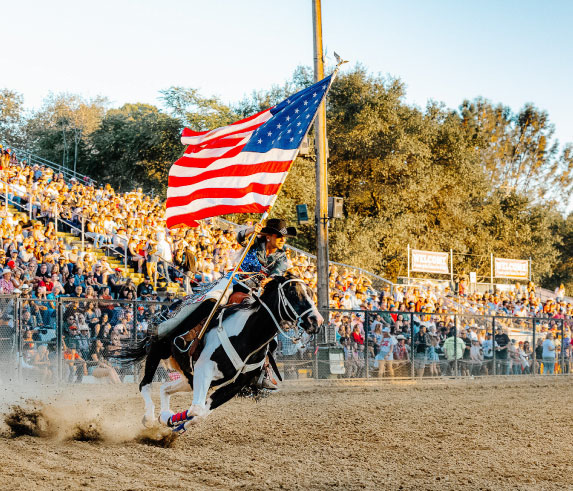 At the Folsom Pro Rodeo, we honor the traditions of rodeo while providing top-notch family entertainment for our audience. We love offering the region an experience that captures the essence of the Old West and honors the city's past.
Rodeo Thrills: Experience the adrenaline rush of bull riding, the precision of barrel racing, and the artistry of roping as rodeo professionals compete in thrilling events.

Family Fun: Our rodeo is more than just a sporting event; it's a family-friendly extravaganza with activities for all ages, including fireworks, live music, and delicious food.

Community Connection: We take pride in being a cornerstone of the Folsom community, bringing residents and visitors together for an unforgettable Fourth of July celebration.
Join us at the Folsom Pro Rodeo and become a part of our rodeo family, where the traditions of the Old West meet the excitement of today!